Learn the 3-Part Framework to Replace Your Slow-Growth Marketing with a Virtual Summit that will 3x Your Revenue (and lead to your biggest launch yet)
"The 3-Part Framework to Replace Your Slow-Growth Marketing with a Virtual Summit that will 3x Your Revenue (and lead to your biggest launch yet)" - happening live Wednesday, October 5
The Launch with a Summit Accelerator is currently at capacity and will reopen for a limited number of new clients on September 1. Join the waitlist to be the first to know when applications are open!
Say goodbye to out-dated launch strategies and profit before you even open the cart when you launch your signature offer with a summit.
Learn how to engage your audience and cultivate relationships with a values-infused event that fuels your business for months and years to come.
JOIN THE NEXT LIVE COACHING CALL WHEN YOU APPLY WITHIN...
Hosting a summit with the support of the Accelerator helped me experience the growth I was looking for in the course side of my business.
The Accelerator not only gave me everything I needed to run a summit, but to do it in a way that had such an impact in adding new students to my course, growing my list, gaining a ton of visibility, and creating an experience that people are talking about months and months later.
This is seriously the best program I've ever taken, and is the best investment I've made in myself or my business. I'd recommend it to anyone with a proven offer they want to sell more of. I'm so grateful for Krista and the Accelerator coaches for putting together something so truly impactful.
- Victoria Boyd, host of the Lucrative Leads Summit
Know, Like, Trust.
The Formula Is Still That Simple.
What's not so simple is HOW you build that genuine connection, generate leads, and convert them into buyers when trust is at an all time low these days.
Not to mention, you're competing with drastically lowered attention spans, email inboxes filled with marketing messages, and a sea of generic, AI-generated content infiltrating everyone's social media feeds.
To continue and build on the success you've seen so far, you need strategies that are working NOW to help you stand out from the crowd, build genuine connections, and cultivate an audience of buyers that fuels your business for years to come.
You may have gotten where you are now by:
Pumping out constant social media content
Trying to keep up with current content marketing trends
Putting together and promoting free opt-ins
Launching your offers with webinars or challenges
Podcast and speaking opportunities with no way to measure the impact
Participating in bundles that result in more unsubscribes than actual leads
Showing up to networking events + hoping to connect with the right people
Doing coffee chats, consults, and endless free calls
Paying for ads until the costs got so high that they stopped breaking even
What if you could replace all of that with one event that leads to your biggest launch yet?
How would it feel to go into your next launch with thousands of new warm leads who've already experienced an incredible transformation from you, and are ready and waiting for more?
Picture how unstoppable you'll feel after hosting a summit that brings in thousands of leads at once, making 5 or 6-figures from the event itself, and then using that momentum to launch your course (after already making a profit before you even open the cart!).
Now imagine doing all of that AND knowing that the momentum would continue to bring in leads, sales, and opportunities, fueling your business for months and years to come.
This is what happens when you launch with a summit.
Get instant access to our advanced training when you apply
My course launch was 4x my previously largest launch and I believe that is 100% because hosting the summit set me up as the go-to expert and put me in front of a targeted warm audience. Attendees were ready to purchase days before I opened the cart thanks to these strategies.
- Pam Grice, host of the Crochet Business Summit
I am 100% sure I would not have as successful an event without the Launch with a Summit Accelerator. I'm really proud that we have a very well-run, compelling event that attendees and speakers love, and the Summit in a Box resources, template, and team were crucial to this… The support in this program is worth its weight in gold!
- Jenny Golding, host of the Yellowstone Summit
The Launch with a Summit Accelerator™ is a high-touch, six-month group program that will help you host a virtual summit that replaces slow-growth strategies and leads to your biggest course launch yet.
THE ONLY PROGRAM OUT THERE THAT TEACHES YOU HOW TO:
01
Host a virtual summit that blows industry averages out of the water
02
Use that momentum to launch your signature offer on the back end, and then…
03
Continue reaping the benefits of your summit for months after the event wraps up.
FILL OUT YOUR APPLICATION NOW TO JOIN US IN THE LAUNCH WITH A SUMMIT ACCELERATOR™.
Get instant access to our advanced training when you apply
My #1 reason for hosting this summit was for visibility and to be seen as an expert in my field and I 100% know my summit did this for me.
Before joining the Accelerator, I was feeling good about where my business was headed after pivoting and launching a new course, but I was also impatient and wanted to do something that would give my business a boost quickly. A summit seemed like the perfect next step, and I'm so glad I did it with the help of Krista and the Accelerator!
The coaching and feedback were what really moved the needle and helped me host a summit that achieved my goals. This was pivotal for positioning my summit in a way that massively grew my list, increased visibility and name recognition, created new partnerships with speakers, and increased sales in my post-summit launch and other promotions shortly after.
The templates and course material were super helpful, but I don't think I would have been able to achieve as much as I did with just the resources alone. I am sooo happy I joined the Accelerator!
- Lucy Reyes, host of the Cheers to Planning Summit
One of the things that was so worthwhile to me was the community-minded selling strategies that led me to a profitable summit without pushing a hard sell. I wasn't sure how I'd make that work with selling a course at the end of my summit, but Krista has mapped out a thoughtful step-by-step process to ensure that you're selling the right product, presenting it to speakers in a way that makes everyone comfortable, and getting sales without feeling like you're just having the summit to sell the course!
- Margaux Fraise, host of the Wedding Summit Series
You know you're ready for more.
More sales
Generate and warm up thousands of perfect fit leads for your signature offer.
More visibility
Get more eyes on your work and become known in wider circles as a leader in your industry.
More impact
Grow your body of work and spread your message to the people who need to hear it most.
BEFORE HOSTING A VIRTUAL SUMMIT:
You're spending hours each week managing dozens of strategies to engage your audience, generate leads, and make the sales you need.

You're frustrated knowing that your course has the potential for a bigger impact if you could just get it in front of more people.

You wish you could enjoy your launches, but instead spend the whole time crossing your fingers that there's still a profit after you make up for the money you spent.

You're wondering if it's really possible to host a summit that gets business-changing results without using gross tactics that turn the event into a pitch-fest.

You know you want to do this, but feel overwhelmed at the idea of figuring it all out on your own and fitting it in with everything else you're trying to manage.
FROM SUMMIT, TO COURSE LAUNCH, TO POST-SUMMIT PROFITS
HERE'S WHAT YOU'LL ACHIEVE DURING YOUR 6-MONTHS INSIDE THE LAUNCH WITH A SUMMIT ACCELERATOR™:
Phase 1: Identify Your Profitable Positioning
During your first week in the Accelerator, we'll start by nailing down your profitable summit positioning that will set you up for a successful summit.
This will set the foundations for a profitable summit and course launch by choosing a niche and topic for your event that draws in the right audience and creates a seamless transition to launch your course following the event.
Phase 2: Prepare for Your Biggest Launch Yet
Next, we'll make sure all the pieces are in place so you can use your summit as a launching pad to sell your course, membership, or group program on the back end.
We focus on your course launch early on in the process to make sure that everything you do while planning for your summit is aligned with your ultimate goal of selling your course. We also use feel-good, engagement-based strategies that build awareness throughout your summit and will have your attendees begging you to open the cart by launch day.
Phase 3: Host a High-Converting Virtual Summit
By the end of month 1, the foundations will be set and you'll be ready to move forward and bring your summit to life. During this phase, we'll walk you through our step-by-step process for hosting a high-converting virtual summit that blows industry standards out of the water.
This section makes up the bulk of the program, and is key to helping you implement our strategies that get 2-3x the industry standard conversion rates. You'll have every resource you need and our high touch support at every step of the way as you plan, prep, promote, and host your event from start to finish.
Phase 4: Leverage Your Momentum for Post Summit Profits
In the final phase of the Accelerator, you'll follow up your summit with a seamless transition to your biggest course launch yet, and then craft a plan for continuing to bring in even more post-summit profits.
We'll walk you through a process for reviewing your results and planning for an even bigger and better event the next time around, and keeping the momentum going after your event.
By the end of your 6 months in the Accelerator, you'll be fully equipped to take what you accomplished and continue building on your momentum for post summit profits and future events that continue to create amazing results.
Most programs teaching virtual summits focus on one-time events, but we don't stop there.
In the Accelerator, we keep long-term business growth top of mind throughout the process. You'll have everything you need to host a high-converting virtual summit, and you'll be able to continue hosting summits as your primary lead generator moving forward.
That means bigger and better course launches with each and every summit you host. (And once you get started, there's no way you're stopping at one!)
There is no other program out there that emphasizes connection, collaboration, and mutually beneficial events the way that we do. You want to do business in a way that creates positive outcomes for everyone involved (your clients, your audience, your attendees, your speakers, and of course, YOU). The strategies we teach will help you do just that. We'll also show you how to maximize your results by building on those new relationships and creating opportunities for post-summit profits after your event wraps up.
IF YOU WANT TO HOST A SUMMIT THAT:
Blows industry standard conversion rates out of the water
Uses feel-good, engagement-based strategies
Seamlessly leads into your biggest course launch yet
Sets you up for additional post-summit profits on the back end
THE LAUNCH WITH A SUMMIT ACCELERATOR™ IS THE ONLY PLACE ON THE INTERNET THAT SHOWS YOU HOW.
Get instant access to our advanced training when you apply
45,000 attendees and $192k in revenue from a first-time summit
"We are so thrilled with our results and have had so many wins through this summit! We exceeded our attendee goal, came very close to our stretch revenue goal, and we're so proud of the event we put on. We also had a lot of non-monetary goals that we're so proud to have achieved through this event! We made so many new connections in our crafting niche, created stronger relationships with many of our peers, landed sponsors for a first time event, and increased our visibility as industry experts in the crafting space.
It was an incredibly successful event, and we are so grateful to have the Summit in a Box curriculum as our guide. We also couldn't have done it without the support inside the Accelerator. The Accelerator coaches were in the trenches with us helping us get our conversion rates up during registration, and their guidance during a critical time made all the difference! And now we're set up for an even better event next year!"
- Amy Romeu and Jen Swift, co-hosts of the Cricut Crafting Adventure Summit
I joined the Accelerator after speaking in one of Krista's summits and was very impressed with the execution and overall experience. I knew going in that I would get the best practices from her, and I did. The feedback I received about the summit experience from speakers and attendees alike was off-the-charts good, and I doubled my email list with leads that are a perfect fit for my new membership.
Krista, her team, and the supporting Accelerator group are the best! It was so helpful to be able to go to the Accelerator for accountability, feedback, brainstorming, and ideation throughout the planning process. There are so many tasks involved in hosting a summit that it could easily become overwhelming without this high level of support. The group is so encouraging, especially in those moments of low mindset, low energy, or challenges, and I would not have been able to host my summit without it!
- Mat Casner, host of the Purpose to Profit Design Business Summit
6 Months Access to the Launch with a Summit Accelerator™ Program
This program is very intentionally designed as a 6 month container so we can support you through the entire process as you plan, prepare, and host your virtual summit, follow it up with your course launch, and then strategically leverage the momentum from your event for post-summit profits. (Live support is limited to the 6-month program container, but you will retain ongoing access to the trainings + templates so you can continue using them for future summits.)
Weekly Group Coaching Calls
Get your most pressing questions answered, dive into the details of your strategy, get feedback, and overcome challenges and mindset blocks to help you move forward with your summit during our weekly group coaching sessions.
Weekly Critiques of Your Summit Assets
Know that you're on the right track every step of the way with recorded feedback on your weekly critique submission. Submit the homework you find throughout the program (like your initial summit plan, all-access pass packages, registration page, and more) and get a detailed review so you can move forward with confidence and see the highest possible conversion rates. These critiques alone have been responsible for doubling all-access pass conversion rates instantly!
Personalized Copy Reviews
We're big on maximizing conversion rates, and there's not much that can improve conversion rates more than effective copy. As you write copy related to your summit (like your registration page, all-access pass sales page, speaker promotional material, registration email sequences, etc.), you'll have the opportunity to submit them to our launch and conversion copywriter and get detailed, personalized feedback.
1:1 Milestone Calls
Get 1:1 support by unlocking milestones when your summit registration opens and when your first event wraps up. This means you'll be able to get personalized feedback in real time as our coaching team reviews your initial summit registration numbers to help you increase registrations and sales during the event. We'll also get on a call with you after your event wraps up to debrief and help you make a plan for even better results the next time around.
Private Client-Only Slack Community
Receive daily feedback, encouragement, and answers to your questions daily from Krista and the Summit in a Box coaching team in our private client-only Slack community. You'll be able to connect with other experienced business owners who are growing their reach with virtual summits while getting the support you need to move forward so you never end up stuck.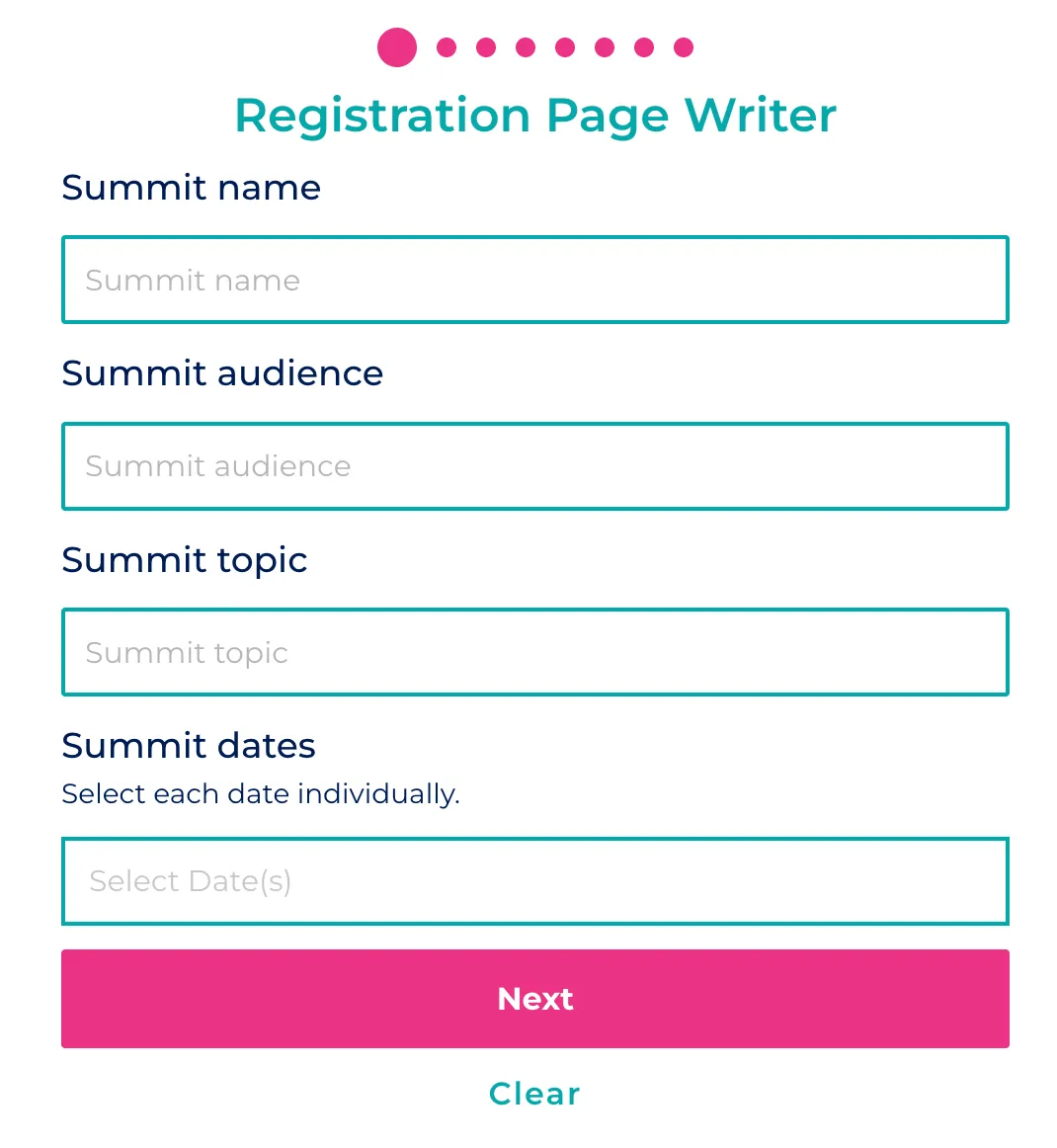 Bonus: Custom AI Apps
Coming in 1-2 weeks! While our trainings and templates make sure you never have to start from scratch, sometimes it's nice to just have someone else do the work FOR you. That's exactly what you get with our custom AI apps.
Get real-time feedback on your summit positioning, generate your tagline, and have your registration page, all-access pass sales page, and promo copy written FOR you, based on our templates.
Bonus: Aligned Summit Sponsorships
Summit sponsorships are a great way to bring in revenue before your event even kicks off, but the way they're typically taught is a recipe for uncomfortable cold pitches, awkward sales conversations, and sponsor promotion that feels forced throughout the summit. But it doesn't have to be this way! There are ways to attract sponsors that feel good for everyone involved and allow you to highlight industry peers and experts that you're truly excited to partner with. With this bonus training, you'll learn the strategies I used to land over $12,000 in aligned sponsorships for my most recent event, along with templates and step-by-step instructions for securing your own aligned summit sponsors.
Bonus: Sponsorship Fast Track System
Need to make back your investment quickly? Our clients easily make back their investment when they host their summits during months 3 or 4 in the Accelerator, but you can see an ROI even faster with our Sponsorship Fast Track System. You'll have everything you need to line up sponsors for your event within the first 4-6 weeks, including processes, templates, strategies, scripts, and swipe files. With this bonus, you'll be on the fast track to landing perfect-fit sponsors and making back your investment long before your summit registration opens.
Bonus: An Actual Summit in a Box!
We couldn't have a business called Summit in a Box and not actually give you a box! When you join us in the accelerator you'll get a physical box, delivered right to your door, with swag and resources to support your summit planning process. You'll find a physical workbook, milestone cards, affirmation cards, schedule planner, speaker notes, and more surprise goodies inside!
PLUS, THE ENTIRE SUMMIT IN A BOX SYSTEM!
You'll have ongoing access to the entire Summit in a Box® system including over 1000 resources like templates, swipe files, and tech tutorials, that are organized into step-by-step instructions to make hosting your summit as streamlined as possible. Everything is set up so you know exactly what needs to be done when, and can easily divide up the tasks to complete some things yourself, while handing off others to your team.
Summit Host Process Map (for Asana, Clickup, and Trello) to simplify your summit planning and make it easy for you to stay organized as you prepare for your stummit.
Copywriter-Approved Copy Templates for every email, web page, and social media post you could possibly need as you pitch, plan, and promote your online summit.
Speaker Swipe Files and Processes that make it easy to pitch speakers and provide them copy and graphics so they can easily promote your summit.
Design Templates to help you set up your website and create graphics and promo material for your online summit.
Tech Tutorials that walk you through the exact steps you need to take to set up all the tech involved in hosting your online summit.
Summit to Course Launch training, strategy, and step-by-step instructions to help you seamlessly transition from your summit to your biggest course launch yet.
Post Summit Profits system to help you leverage the momentum and all the new connections you made from your summit for more opportunities, and bigger and better results from future events.
Get instant access to our advanced training when you apply
WHAT DOES IT REALLY TAKE TO HOST A VIRTUAL SUMMIT?
I won't lie: hosting a summit is a lot of work!
With the support, guidance, templates, processes, and 1000+ resources you get access to inside the Accelerator, we make it as easy as possible, but you'll still need to put in the work to see results.
You have so much on your plate right now with the multiple strategies you're currently using to grow your reach and get in front of new leads. It may seem like hosting a summit on top of everything else you're doing is impossible.
Here's the truth: you probably don't have time to host a summit AND continue doing all the things you're doing right now.
The beauty of a summit is that it can replace the majority of your slow-growth marketing methods, and create even bigger and better results in the long run.
But in the short-term, you'll need to make some choices.
Getting everything ready to host your first event might mean slowing down on content creation, posting less on social media, or skipping creating that new opt-in you've been thinking about in the short term. This will free up space for you to focus on making your first summit as impactful and profitable as it can possibly be.
When it's all said and done, you'll look back and be SO glad you paused the things that were bringing in a slow stream of leads to focus on something much bigger and more impactful.
Once your first event is over, you can choose which of your previous strategies you want to pick back up (and you'll be in a position to be selective and only continue with the ones you actually enjoy!). You'll also have the groundwork laid to continue hosting summits in the future that will be easier and less time-consuming the next time around.
Hosting a summit is a big project, but it's never been more doable than we make it inside the Accelerator.
Hosting a Virtual Summit is an Investment in the Future of Your Business.
Make sure your summit (and the launch that follows) are as efficient, engaging, and profitable as possible with support from Krista and the Launch with a Summit coaches + community.
Some screenshots have been shortened to show the most relevant information
HOW DO I KNOW IF I'M READY FOR THE ACCELERATOR?
We ask you to apply in order to make sure you're in a position to fully take advantage of the support we offer and strategies we teach inside the Accelerator.
We only accept clients who are truly ready to put in the work and reap the rewards of hosting a virtual summit for their online business.
Read through the list below, to get an idea of who the Accelerator is a good fit for:
You're ready for theAccelerator if…
You've been in business for at least a couple of years and you're making consistent, full-time revenue.

You have an existing, proven offer (like a course, membership, or group program), that you've successfully launched at least once.

You have a sales system set up for selling your course, even if you only have a tiny existing audience to sell it to at this point.

You're comfortable with the basics of setting up tech systems and automation. (You don't have to be a pro, but you won't get stuck on simple things like setting up a landing page.)

You have at least one team member (like a VA) to help you with your summit.

You want to host a summit that prioritizes attendee and speaker experience first, so that everyone involved has an amazing experience.

You're willing to take our advice and niche down your summit to a strategic, highly targeted segment of your audience in order to see the above-industry-standard conversion rates we promise.

You're ready to put in the work to make your virtual summit a reality, and replace the slow-growth strategies that have been taking up too much of your time with too little to show for it for way too long.
You are NOT ready for the Accelerator if…
You're a new business owner, and aren't yet making consistent revenue through your business.

You don't have a proven course, membership, or scalable offer that you'd want to sell on the back end of your summit.

You don't have a sales system in place for selling your existing offers.

You're resistant to anything to do with automation or basic online business tech like course hosting, email marketing, and website platforms.

You're planning to host your summit entirely on your own without the help of a VA or team member.

You're only in it for yourself, and aren't concerned about your speaker or attendee experience, as long as you come out ahead. (News flash: if you approach your summit with this attitude, no one wins, including you.)

You want to host a summit with a vague topic for a general audience, and you aren't willing to listen to our suggestions to make your event more profitable and impactful.

You're looking for a magic bullet solution to "save" your business.

You're not willing to put in the work to see the results you want.
$22k in summit revenue + at least $10k in added course sales.
Time was my issue and I needed something to save time. Summit in a Box had a template for everything. Krista made this so ridiculously easy and I can't imagine not having all the starting-off points that Summit in a Box gives. We had $22,463 in all-access pass sales, added an extra $10,000 of course launch sales, and people were asking when we were going to do it again before it was even over. We wouldn't have had that without Summit in a Box.
- Kate Doster, The Big 3 Summit Host
Doubled email list + $11k in summit revenue.
My email list doubled, I made $11k from my very first summit, and it totally changed the momentum of my business. I've now incorporated summits into my overall business strategy, hosting one per quarter as my main revenue and lead generator. Summits have completely transformed my business, and it's not just the system or process, but the person. Krista is very genuine and she cares. The feedback I've gotten from Krista and the Summit in a Box team is totally invaluable. There is no way I could have done this without Summit in a Box. Best investment I ever made!
- Laurie Graham Acker, Small Church Ministry Summit Host
My original goal was to have 5,000 attendees and make $5,000. Instead, I had over 12,000 attendees with a 20% conversion rate, giving me $105,000 in revenue. Krista thought of everything and there's no way I could have done this without Summit in a Box.
- Brandi Mahon, Card Maker Success Summit
In our first event, we ended up with over 1,300 attendees and more than $15,000 in revenue. We're BEYOND thrilled and 110% don't think we could have done it without Summit in a Box. This is one of the best investments I've ever made in my business!
- Cameron Normand, Stepmom Summit
We were hoping for 2,000 registrations. Instead, we had 9,500 registrations and made just shy of 6-figures. If you're thinking of running a summit, and you don't have Summit in a Box, think again, you need it.
- Dama Jue, Details to Dama
I successfully organized and launched my very first virtual summit within 90 days with zero summit experience thanks to the Summit In A Box resources. I've now hosted three summits, and my most recent one grossed over $34,000. Krista's resources were an integral part of keeping me organized and making this summit a huge success!
- Eden Fried, Rebel Boss Summit Host
When I first got the idea to host a summit, I had no idea where to start. Using the Summit in a Box resources, I doubled my email list and made 150 all-access pass sales, giving me a 16% conversion rate! My second summit brought in 5,000 attendees and over $34,000. I'm officially hooked on summits!
- Hannah Murphy, The Supported Photographer Summit Host
ANSWERS TO YOUR QUESTIONS ABOUT THE LAUNCH WITH A SUMMIT ACCELERATOR™
What's included in the Launch with a Summit Accelerator™?
How long does the Accelerator last?
Will I lose access to everything after 6 months?
What if I want more time in the Accelerator?
Will I be a good fit for the Accelerator?
What if I don't have a course or membership?
Do I need any special tech?
How much time do I need to dedicate to this?
When do I get access to the content?
What if I can't attend the live calls?
How long will it take me to see an ROI?
What's your refund policy?
I have more questions before I'm ready to join.
Get instant access to our advanced training when you apply
APPLY TO THE LAUNCH WITH A SUMMIT ACCELERATOR™
Apply now for your spot inside the Accelerator, and get instant access to our exclusive VIP training on how to replace your slow-growth marketing with a high-converting virtual summit.
This is an advanced-level training that will teach you how to use feel-good, engagement-based strategies to host a virtual summit that blows industry standards out of the water following the Summit in a Box principles.
You'll learn my exact 3-part framework for replacing your slow-growth marketing strategies with a virtual summit that leads to your biggest course launch yet and sets you up for post-summit profits.
If you're accepted, I'll also explain everything you need to know about the Accelerator to ensure we can truly help you get the results you're looking for.
*Enrollment in the Accelerator is not required, there is no obligation, and you get access to this video training just for applying!
We are so excited to receive your application and see if we're a good fit to work together! Please take a minute to complete the form below so we can learn more about you and see how we can help you.
Please make sure to give as much explanation as possible. This is your chance to make an impression and let us know if you would be a good addition to the Launch with a Summit Accelerator™!
Your success depends on your own effort, motivation, commitment and follow-through. We cannot predict and we do not guarantee that you will attain a particular result, and you accept and understand that results differ for each individual. Each individual's results depend on his or her unique background, dedication, desire, motivation, actions, and numerous other factors. You fully agree that there are no guarantees as to the specific outcome or results you can expect from using the information you receive on or through this website or product.
When you purchase our product, you understand that there is no guarantee that you will achieve any particular result or outcome using any of the ideas, tools, strategies or recommendations presented. We make no promises or warranties concerning your likelihood of success, performance, future earnings, business profits, marketing performance, customer growth or results of any kind. You understand that with any business endeavor there is an inherent risk, including a loss of capital and loss of customers and therefore you assume all responsibility for any such risk.
EARNINGS DISCLAIMER. Any earnings or income statements or examples shown through our website are only estimates of what might be possible now or in the future. There can be no assurance as to any particular financial outcome based on the use of our website. You agree that I am not responsible for your earnings, the success or failure of your personal or business decisions, the increase or decrease of your finances or income level, or any other result of any kind that you may have as a result of information presented to you through our website. You are solely responsible for your results.
TESTIMONIALS. I present testimonials and insights about other people's experiences with my website for purposes of illustration only. The testimonials, examples, and photos used are of actual clients. they are not intended to represent or guarantee that current or future clients will achieve the same or similar results; rather, these testimonials represent what is possible for illustrative purposes only.